Chceš začít jezdit na skateboardu a nevíš, jak začít? Ve skateparku nebo na parkovišti najdete hodně zkušených kamarádů, kteří ti určitě rádi poradí. A pak je tu taky tento článek s troškou skateboardové teorie pro úplné začátečníky.
Jak tedy začít. Pořiď si prkno. Může být fungl nové nebo od kámoše nebo z bazaru. Raději nenakupuj prkna v supermarketu. Jsou sice levná, ale jsou většinou z nekvalitního materiálu. Špatně se řídí, mají tvrdá kolečka, nekvalitní nápravy z měkkého materiálu a velmi špatně se na něm jezdí. Desky se často lámou nebo upadávají kolečka. Raději popros rodiče a zajděte doskateshopu pro kvalitní a bezpečné prkno. Je sice trochu dražší, ale dýl vydrží.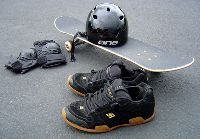 K prknu je dobré pořídit si
boty na skateboard
. Můžeš sice jezdit i v normálních botách, ale bude to obtížnější a také nebezpečnější. Skateboardové boty mají velkou plochou a hladkou podrážku, aby dobře seděly na desce. Jsou vybaveny výztuhami a zesílením na nejvíce namáhaných místech. Je dobré opatřit si
helmu
. Někteří si v helmě můžou připadat hloupě, ale v mnoha skateparcích jsou helmy vyžadovány. Stejně tak
chrániče
na kolena a lokty můžou zabránit vážnějšímu poranění, kvůli kterému bys musel trénování na skateboardu na čas přerušit, a to přece nechceš.
Výbavu máme, tak do toho. Pokud máš nové prkno, na které zatím nejsi zvyklý, postav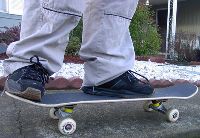 ho nejdříve na hrubší povrch, třeba na trávu nebo doma na koberec. Pak se na něj postav a zkus poskočit. Další cvik je snažit se udržet rovnováhu nejprve na předních a pak na zadních kolečkách. Najdi takovou polohu nohou, ve které se cítíš na desce nejjistěji.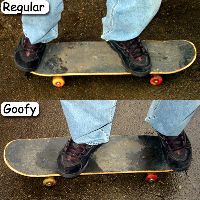 Další, co potřebuješ zjistit je, jestli ti více vyhovuje mít vpředu pravou nebo levou nohu. Podle následující triků zjistíš, zda máš postoj
GOOFY
(pravá noha v předu) nebo
REGULAR
(levá noha vpředu):
Medoda č. 1: Vezmi míč a postav jej před sebe na zem. Teď do něj kopni. Noha, kterou jsi kopnul bude pravděpodobně ve tvém postoji vzadu.
Metoda č. 2: Jdi do schodů. Noha, kterou vykročíš jako první je tvá zadní noha v postoji.
Metoda č. 3: Tento fígl nesmíš prokouknout, jinak to nefunguje. Takže teď čti dál a jak řeknu dost, přestaneš číst a půjdeš si to zkusit. Postav se do stoje spojného (kdo nechodil do tělocviku je to s nohama těsně u sebe) a požádej někoho, aby do tebe zezadu strčil. STOP, nečti dál a udělej to.----- Tak, doufám, že jsi nespadl. Určitě ne, protože když jsi padal, předsunul jsi jednu nohu, abys neupadl. Tahle noha bude tvá zadní noha v postoji.
Odrážení
Nejlépe se provádí na hladkém asfaltu nebo betonové ploše. Dej svoji přední nohu na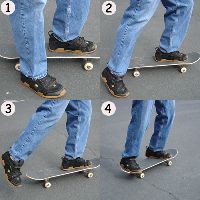 prkno tak, aby byla přímo nad předními trucky nebo kousek za nimi. Zadní nohou se odrážej. Jakmile nabereš dostatečnou rychlost, postav zadní nohu na prkno. Pokud jedeš z kopečka a chceš zastavit nebo zpomalit, uděláš to otočkou. Nakloníš se lehce na tu stranu, kam chceš zabočit. Lepší obrat nebo zastavení je přenést váhu na zadní nohu a přední kolečka otočit do směru, kam chceš zabočit. Chce to ale trochu tréninku. Odrážení, pojíždění a otočky dokonale natrénuj, abys získal jistotu a dokonale se sžil s prknem.
Zastavení
Teď, když víš, jak jezdit, možná se ti bude hodit umět zastavit.
Footbreaking (brzda nohou). Nejjednodušší způsob je zadní nohou zabrzdit o zem. Ale jako všechno to chce pořádně nacvičit.
Heel Drag. Je to běžný způsob zastavování u pokročilejších skateboarďáků. Přenes váhu na zadní patu, takže zadní část prkna sešlápneš, aby se přední část ocitla ve vzduchu.
Bail! Když nic jiného nefunguje, můžeš z prkna jednoduše seskočit. Pokrč kolena a když skočíš dopředu, skateboard obvykle zastaví.
Obloučky
Obloučky se dělají podobně jako na snowboardu. Za jízdy přenášíš střídavě váhu na paty a na špičky. Čím důrazněji zatlačíš patami nebo špičkami na desku, tím ostřejší bude oblouk. Časem zjistíš, že otočky jsou snadnější, jestliže nakloníš tělo ve směru oblouku.
Jakmile zvládneš jízdu na rovném parkovišti, co takhle zkusit skatepark? Lavičky, rampy a tak? Směle do toho! Pamatuj si tři pravidla:
Pravidlo č. 1: Váha vždy na přední noze.
Pravidlo č. 2:Co nejvíce pokrčená kolena. Tvé tělo se tak lépe přizpůsobí pohybům. Čím uvolněnější a pokrčenější budou tvá kolena, tím lépe budete jezdit.
Pravidlo č. 3: Buď uvolněný. Přizpůsob své tělo pohybům a nebuď prkno na prkně.
To by pro začátek stačilo. Poctivě trénuj a příště se podíváme na některé základní tricky.